With Paddy Power at the centre of another advertising guidelines scandal, this time for their latest Paddy Power Games TV commercial advertising their Wheel of Wonder Spin a Day promotion, we look at four times the Irish bookmaking and games giant upset the PC brigade and felt the wrath of the ASA (Advertising Standards Authority).
Wheel of Wonder TV Commercial – June 2022 (Banned July 2022)
Released onto our TV screens in the UK and Ireland in February 2022, this naughty take on 'fancying your girlfriend's mum' received a barrage of complaints ranging from bad taste to encouraging mobile gaming rather than interacting with family members and friends. In the advert, ​a voice-over remarks: "With Paddy Power's Wonder Wheel you get a free spin and a chance to win a cash prize every day." The girlfriend asks him: "Do you think I will end up looking like my mum?" The Boyfriend replies, while more concerned with playing Paddy Power Games on his phone "I hope so". The ASA upheld the complaint and in June 2022 the TV commercial was removed from our screen. You can read about the Power Power Games promotion in question at OKCasino.co.uk
Loyalty is Dead TV Commercial – February 2019
One of the most memorable Paddy Power TV commercials of all time resulted in a television ban imposed by the UK watchdogs in February 2019 after receiving a record number of complaints. The controversy stems from claims made by Rhodri Giggs, brother of Manchester United football legend Ryan Giggs, that his ex-wife Natasha Lever slept with several top level football players, including his own brother Ryan! The story was splashed all over the tabloids despite various legal injunctions and European court rulings being enacted to suppress the story. Of course, Paddy was there to capitalise on the mayhem by making Rhodri the brand's New 'Rewards Club Ambassador' with the tagline "Loyalty is Dead". Despite the ban, the advert and tagline became embedded into popular culture for years to come.
Gambling at the Last Supper – October 2005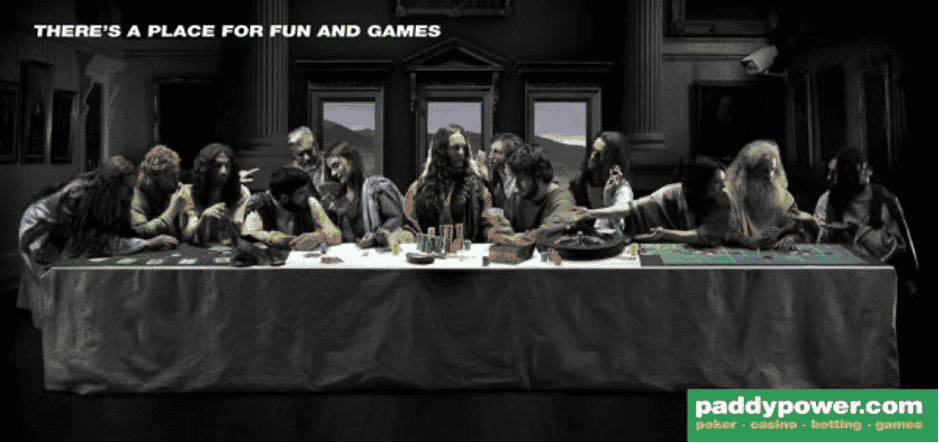 Almost two decades on and this one is still remembered by upset clergy members and followers of the christian and catholoc religion alike. A newspaper advert run in Ireland and the UK portrayed Jesus and his disciples playing cards and casino games at the last supper. The advert received a massive backlash from the public, and rumour has it the pope was notified. The tagline of the advert, which read "there's a place for fun and games" never again saw print, as the ad was banned in October 2005.
Immigrants, Jump in the Back! Marketing Stunt – July 2015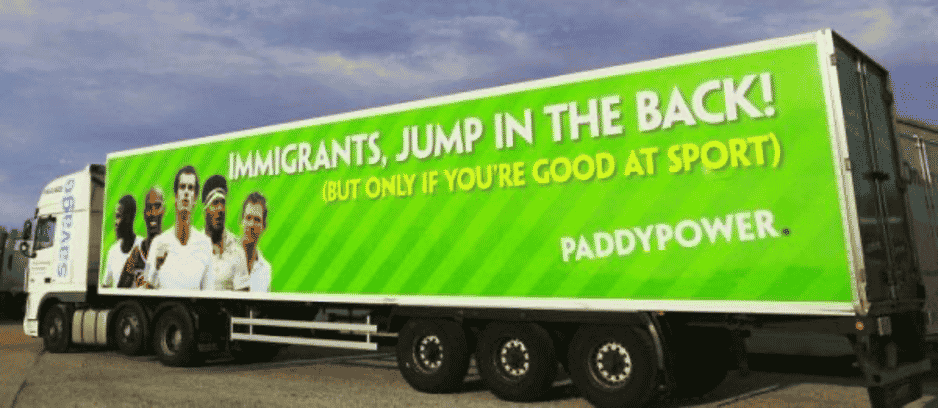 As England saw the start of one of the hottest summers on record in July 2015, so too did Paddy Power find themselves in hot water! This time, a marketing stunt using the immigrant crisis at Calais as their fodder, saw the Irish bookmaker accused of being culturally insensitive and out right cruelty by making light of people in a desperate situation. The stunt was largely panned by both sides. Fans on Twitter made their feeling known to the official Paddy Power Twitter account, which prompted Paddy Power to offer the following official statement/apology – "We did not design the ad to cause offence or to be insulting to immigrants, rather we were simply referencing a long-running joke regarding Andy Murray's nationality and it was just that – a joke. We regret any offence that was taken by the complainants"
Although an apology is issued by the famous green bookmakers after almost every instant of backlash, do you think they should be forgiven each time for what is clearly a marketing stunt used to entertain their social media fan base and help continue to grow their online customer base further?