As we all know, there may have hundreds or thousands of BTS towers in one city, which are running several communication devices, supporting efficient and stable communication for the whole city. These Telecom BTS Towers are separated into different areas. Some of them are built on the top of the mountain, and some of them are land on the mostly empty field or in Densely populated towns.
In order to make sure all the communication devices are running stably, each BTS tower will set up a backup power system to deal with unexpected shun-down situations.
How to make sure the backup power systems are operating safely and stable, especially when the BTS tower is far away and separately in different areas? A remote battery monitoring system for a large number of cell sites has always been a significant challenge for the Telecom industry.
1. Why Is It Necessary to Use a Suitable Monitoring System for Telecom?
A unique monitoring system can provide tons of benefits to both batteries and telecom operations. Here are some perks of using a battery monitoring system:
For Batteries:
l Monitor Every Battery
Some maintenance will change the whole string batteries regularly because they don't know which battery has a problem. However, the battery monitoring system monitors the parameters of each battery in real-time and gets the summary statistics to analyze the status of a battery. So maintenance and locate the problem battery at once.
l Real-Time Monitor Battery Status
The monitoring system provides real-time information on battery status, including voltage, current, status, charge, and discharge times. The monitoring system can get the data of the battery; if there is any abnormal situation, the system will alarm immediately. That's very helpful to timely solve the problems.
l Realize remote monitoring the battery status
The battery monitoring system can upload data through MODBUS or SNMP to the system. Also, it has Mobile APP which can support monitoring the battery whenever and wherever.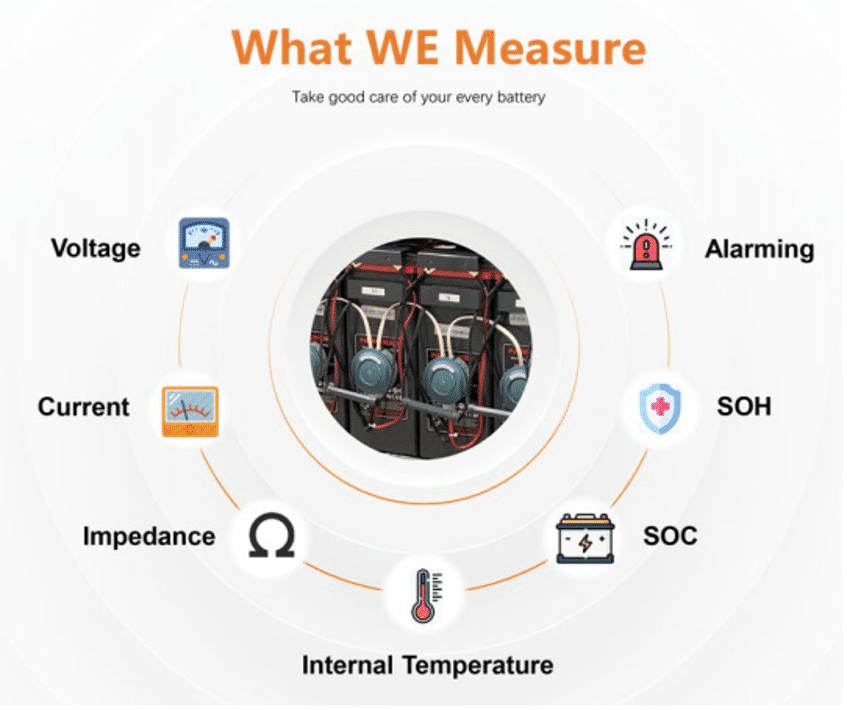 For Telecom Operations:
n Reduce Labor and Maintenance Costs
The monitoring system can monitor your batteries automatically, measure each battery's voltage, internal temperature, impedance, SOC, measure string current, string voltage, etc., and send data through MODBUS TCP or 4G to the system. It will send out an alarm to you when there is an abnormal situation with the batteries. So the BTS Tower maintenance does not need to visit the site remotely, just checking the data on the system, then he/she can know each site battery status.
n Ensure Telecom Station Safety
As you know, improper use of lead-acid batteries will sometimes cause fire or explosion accidents. The monitoring system can prevent these accidents because it can detect abnormal situations with your batteries, such as overcharge/discharge or over-temperature situations, and so on. The most important part of a battery monitoring system is that when there is an error, an alarm will be sent out to maintenance so that they can solve the problem quickly.
n Reduce Battery Replacement and Protect the Environment
These systems can intuitively monitor each cell's health data; maintenance can judge battery health through data curves and local the problem battery. So that they only need to replace the individual problem battery instead of the whole string battery. This will reduce the cost of maintaining and environmental pollution.
n Remote Monitoring the Battery Status and Locating the Problem Battery
The entire premise of remote monitoring is that you can watch your network from anywhere in the world. The system can monitor distributed station's data through MODBUS-TCP or 4G to upload data to the centralized system. When the battery data exceed the setting alarm data, the system will tell maintenance which station which battery has a problem.
n Send Out an Alarm to the Maintenance
Without a remote monitoring system, maintenance needs to check every BTS tower battery once in a while. This is a very huge and headache job. Because they are distributed all over the city, and it is just like fishing for a needle in the ocean aimlessly. The battery monitoring system comes with an SMS alarm or email alarm which helps maintenance to locate the problem battery by visiting the corresponding BTS tower.
2. How Does Battery Monitoring Systems Work?
A battery monitoring system (BMS) is a real-time remote battery health monitoring system. Unlike traditional battery monitor systems, DFUN's battery monitoring system can monitor individual battery voltage, internal temperature, impedance, SOC, and SOH. So when the battery bank has a problem, the engineer can quickly find out the problem battery itself. The system installation is very easy. In order to get individual battery data, battery voltage monitoring systems require installing a battery sensor on each battery. Then those battery sensors are connected one by one. Then engineer can turn on the auto-searching battery ID address function, and the system automatically matches each battery with each battery sensor. So the system will gather each BTS station's data and can check the corresponding data for each battery. By setting the data alarm threshold, the system will send out real-time alarms by Email and SMS to the maintenance.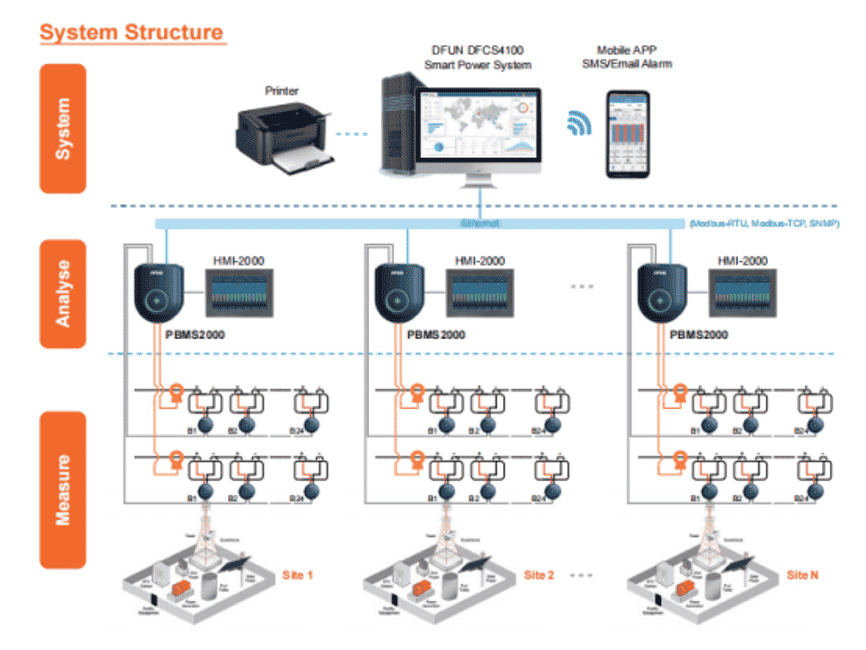 3. DFUN Battery Monitoring Systems for Telecom
For the Telecommunication battery monitoring solution, DFUN provides PBM2000 and PBAT-Gate for each BTS station and provide DFCS4100 as a centralized monitoring system for several separated station.
PBMS2000
PBMS2000 solution is mainly used in a 48V power supply system as a highly cost-effective solution. It can monitor a maximum of 2 battery strings with 120pcs lead-acid batteries. With an Ethernet port, it can upload data to the system with MODBUS-TCP or SNMP.
PBAT-Gate
PBAT-Gate Solution supports monitoring 4 battery strings and 480pcs lead-acid batteries in total. With a built-in server, it has a small web-based system that can help to check all the battery status on the web page, making it an easy and convenient operation for engineers intuitively. It also supports 4G wireless communication. So it is normally used for some old BTS station that doesn't have an Ethernet port.
Conclusion
Remote battery monitoring for a huge number of distributed BTS stations is a big task for telecommunications. DFUN's battery monitoring system has been installed and approved for the Telecommunication industry for more than 8 years. The solution has been used in most of the big Telecommunication companies, and for some special sites, they can also provide customized solutions. So let them take care of monitoring your telecom batteries while you focus on doing what you do best, keeping your customers happy!